Goldbaby has bundled the Tape Drum Machines series and Analog AutoRhythms into the Tape Drum Machine Collection.
The pack features 55 drum machines recorded through real tape machines and hardware tape emulations in the Goldbaby studio. A lot of the samples have been remastered and tuned and a few more drum machines added.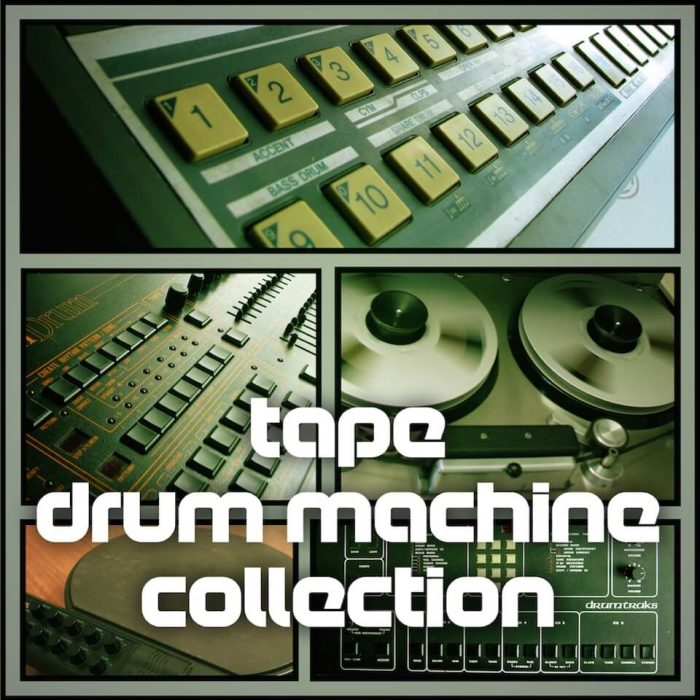 Vintage drum machines from the 70's, 80's and 90's and a few modern classics. Also some rare and unusual auto rhythm machines. A veritable smorgasbord of warm, punchy and interesting analog and digital drum machine sounds.

7000 x 24 bit wav samples and 325 x Auto Rhythm Drum Loops (Rex & Wav). With kits and instruments for Maschine, Geist, Battery, Logic Pro and Kontakt.

List of drum machines used: CR-78, 4 In The Floor, Acetone Rhythm Producer, Mam ADX-1, Dr Bohm, Combo Sideman, Conn Rhapsody, DDM-110, DDM-220, DDR30, DPM-48, DR-55, DR-110, DRM-15, DRM-16, DRM-32, Drumulator, DSM-1, ED-10, Super Spacedrum, Crash Pad, ER1, KPR-77, KR-55B, Linn LM1, Linn LM2, MBase01, MFB-522, MicroRhythmer, MPC-The Kit, MR-10, MRX-185, Olsen X-100, PB-300, PO-12, R-50e, R-50III, R-70, R-100, Rhythm-80, Ritmo-12, RPM-40, RX-5, RX-21L, RZ-1, Synsonic Pro, Tom, TR-55, TR-330, TR-505, TR-626, TR-707, TR-727, Volca Kick, XD-5, Various Rom808 and Rom909 sounds.
Tape Drum Machine Collection features
7,000 wav samples (24 bit).
325 Loops (Rex and Wav).
Maschine 2 – 2 Projects, 61 Drum Kits, 43 Chrom Drum Patches and 11 Loop Kits.
Geist – 61 Presets and 61 Kits.
Battery 3 – 61 Drum Kits.
Kontakt 5 (full version only, not the free player) – 61 Drum kits, 43 chrom drum patches.
Logic Pro EXS24 – 61 Drum Kits, 43 Chrom Drum Patches.
Also available as 16 bit wav for Hardware samplers.
The bundle is available for $49 USD. Owners of Tape Drum Machines Vol 1, Vol 2, Vol 3 and Analog AutoRhythms Vol 1 can get $11 USD off for each pack purchased.
More information: Goldbaby / Tape Drum Machine Collection