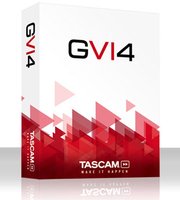 TASCAM has announced GVI 4 (Giga Virtual Instrument), a powerful sampler instrument.
One instance supports 16 channels of MIDI playback. Add as many instances of GVI as your computer can handle for 16 more MIDI channels each. Browse your sample library and load sounds from the GVI interface, or use the new standalone QuickSound database to quickly search all your hard drives (Windows version only). Like GVI 3, GVI 4 makes it easy to stack multiple instruments on a MIDI channel for even bigger sounds.
GVI 4 will include sound libraries from SONiVOX, Larry Seyer Digital, Project SAM, and Wavelore.
With GVI 4, the Giga sampling platform will be available on the Mac for the first time.
GVI 4 has a MSRP of $399 USD (upgrades are available as well), and will be available in fall 2007.