Tascam has announced it is now shipping the new iXR USB audio/MIDI interface with iOS connectivity, a new way to bring out the power and performance of your iPad and iPhone music and recording apps.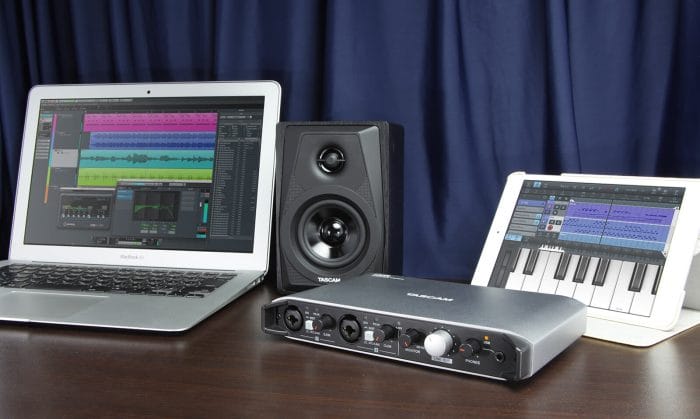 Designed to bring your mobile devices into the world of professional audio, the iXR is a full featured "Made for iPad" PC/Mac USB audio interface that also delivers direct connectivity to your iPhone and iPad via the standard iOS Lightning or 30-pin connector, without the need for special adapters or flimsy mini-plugs.

Featuring two of TASCAM's acclaimed Ultra-HDDA mic preamps with phantom power, mic and instrument-level inputs, zero-latency monitoring, MIDI in and out, and supporting up to 96kHz/24-bit resolution, the iXR is your ultimate all-in-one, professional audio interface in a slim, rugged, backpack-approved package that's equally at home on stage or in the studio.

With balanced stereo outputs, the iXR is also the perfect bridge between an iPad and a professional quality concert sound system. As virtual instrument apps have evolved to deliver features and performance that meets, and even exceeds the most advanced synthesizers. The iXR enables your audience to experience the full sonic power of revolutionary new instruments like Cakewalk's Z3TA+ and moForte's GeoShred, elevating the iPad to a truly professional level. "We designed GeoShred to take advantage of the iPad's touchscreen interface, as well as its processing power," remarked moForte's Pat Scandalis. "Now, with the iXR, artists can fully unleash the unique sonic capabilities and dynamic power of our one-of-a-kind instrument."

Recording to your iOS device just got easier too. Bundled with Cubase LE for Mac and Windows, as well as Cubasis LE for iOS, the iXR can also act as the centerpiece of a world class digital recording system. Enjoy the portability of app-based recording and the power of desktop audio production in equal measure. Simply connect a microphone or instrument and record vocals and live instruments directly to your iPad, iPhone, Mac or PC with zero-latency direct monitoring.

"Tascam created the Portastudio multitrack experience, and we've continued to perfect it," comments Jim Mack, Tascam Executive Vice President. "Today's artist has a wealth of different musical resources at their fingertips, and the iXR is the first interface of its kind that ties them all together."
The iXR interface will be available soon with an MSRP of $259.99 USD and a street price of $159.99 USD.