TBProAudio has announced the release of the successor of the LA xLimit II plugin.
LA xLimit III is an advanced look ahead, wideband linked-stereo limiter including ISP (inter sample peak) detection and oversampling.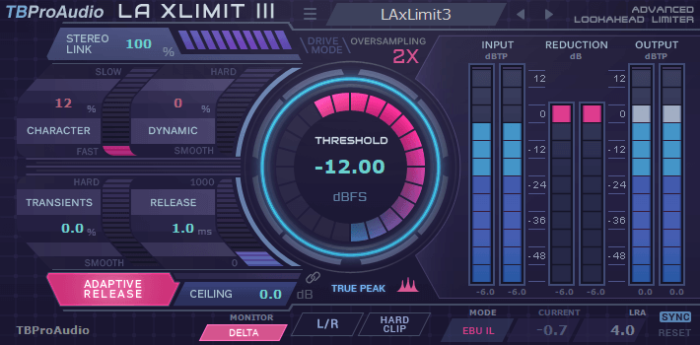 The updated version extends measurement like RMS, EBU or DialNorm, drive mode and unity gain/delta monitoring.
LA xLimit III is specifically designed for mastering, digital editing, multimedia, and any application that requires limiting of the digital signal with top notch quality and lowest aliasing. LA xLimit III guarantees ultra fast and overshot free response by using advanced look ahead algorithms.

In order to fulfill today's TV, broadcast and music production requirements LA xLimit III offers True-Peak limiting (ISP) based on ITU-1770 specification and on top of it up to 8x "real" oversampling. Combined with True-Peak limiting reaches even highest production standards.

LA xLimit III includes an advanced adaptive release control system which reduces massively artifacts caused by fixed release times. In order to increase limiting sensitivity both stereo channels can be freely linked/unlinked.
LA xLimit III features
State of the art low aliasing look ahead limiter design.
Freely adjustable limiter character.
Detailed transient control.
Freely adjustable adaptive release curves.
Level detection modes: peak and ISP based on ITU BS1770.4.
NEW: RMS, EBU R128 and DialNorm loudness measurement.
"Real" oversampling, up to 8x.
Stereo link.
Built-in clipper.
NEW: drive mode.
NEW: unity gain and delta monitor modes.
Preset management.
Mid/Side processing mode.
Easy to use GUI.
Large and accurate live meters.
All sample rates.
LA xLimit III costs 99 EUR ex. VAT. It is free for registered LA xLimit users. A demo version is available for download.
More information: TBProAudio