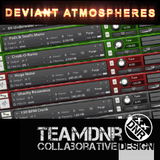 TeamDNR Collaborative Designs has announced the release of Deviant Atmopsheres, a new cinematic library for Kontakt by Brickwall Audio.
Deviant Atmopsheres aims to capture the true, dark production ready cinematic ambience and sound design needed for today's film, tv and games productions! The inspiration for this library comes from the big-budget promotional campaigns for tv and film, but at a fraction of the price.

Sound sources used to create this library are as varied as they are fresh – processed hand built prayer-bell type percussion, floor toms, stretched, filtered and generally abused field recordings and even a man-handled egg timer!
Deviant Atmopsheres features
257 16 bit 44.1 khz wav files, 378MB unzipped.
50 patches (17 NKM, 33 NKI) included as a starting point for experimentation and further processing:

"Main" patches are ambient, atmospheric type sounds.
"Impacts" folder contains huge booms, bangs, reversed elements and "rumpfs".
"Bonus" folder contains found sounds, special fx type recordings as well as a reprogrammed "best of" selection from the earlier free Kontakt instruments.
"Loops" folder contains 10 constructions kits (full mix, separate low, mid and high elements) in tempos 100-180 BPM. The loops use Time Machine 2 to enable playback at various tempos. A full set of chopped up, single drum hits is included enabling you to create your own beats.
Deviant Atmopsheres for Kontakt 3.5 or higher (Kontakt Player not supported) is available to purchase as a download for $19 USD.