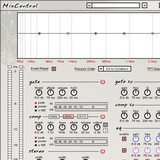 TeamDNR has announced the release of MixControl, a flexible channelstrip package consisting of 2 high quality mixing plug-ins.
MixControl Large is intended as an all-in-one solution for more complex mixing needs, while MixControl Small has a reduced feature set and smaller interface for more general mixing tasks.
MixControl Large features
2 Compressor Modes (transparent/colored)
3 level detection modes for gate/comp modules
Ultra-responsive gate
Internal gate/comp sidechain modules with various filters
Input/Output FFT view with peak hold viewable on EQ display
6 band precision EQ utilizing filter curve measurement
13 EQ filter types

Low Cut 12dB/24dB/36dB/48dB
High Cut 12dB/24dB/36dB/48dB
Low Shelf
High Shelf
Bell (Peak)
Band Pass
Band Stop

Brickwall limiter with release control
3 band stereo enhancer with auto makeup and band solo
Dynamics->EQ or EQ->Dynamics processing
Dynamics metering (envelope follower/peak)
Sub-preset loading and saving
Background skinning
19,200 sample adjustable delay
Phase Invert switch
Input/Output gain control
64-bit internal processing
Extremely low CPU usage
MixControl is available for PC and Mac (VST/AU), priced at $79 USD. Windows x64 versions and Mac VST3 versions will be released shortly.