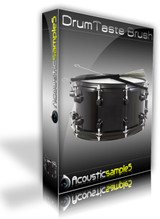 Acousticsamples has announced the release of DrumTaste Brush, a sample library featuring a brush drum kit.
DrumTaste Brush features
The DrumTaste Brush is a Brush Kit featuring a 22″ bassdrum, a 12″ hi tom, a 14″ low tom, a 14″ piccolo snare, two 22″ rides and a 13″ hihat
3382 samples, 1.42 Go of samples recorded at 24 bits, 96khz downsampled to 44.1khz, no loops.
3 mic positions for each drum that you can mix and/or disable from the interface.
About 20 velocity layers X 4 round robins (so about 80 samples per drums per position) and only 6 velocity layers for the two ride cymbals.
Custom mapping, you can assign every element to any key simply by pressing a key and assigning a sample.
Mappings presets: GM, V-DRUMS, IMAP, NSKIT (NDK) or default one.
Separated compression module for each component.
Hihat with 5 levels on openness and triggering from one key depending on a controller value (any controller) and automatic closing sound (hear it at the beginning of the demo 4).
Playable instrument, right hand and left hand mappings (mapping repetition customizable).
Detailed snare, 6 different hit positions and multiple brush actions.
4 different brush actions and a script that allows an easy playability on a keyboard or on an e-drum.
KONTAKT 2 and 3 format to benefit from the interface, the multiple mic position mixing and the custom mapping. Easy to use KONTAKT interface. Other formats are coming.
Includes the demos midi files.
DrumTaste Brush is available for Kontakt 2 and higher, priced at 49 EUR.
More information: Acousticsamples / DrumTaste Brush