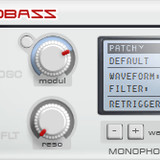 Tek'it Audio has released version 1.1 of Genobazz, a freeware monophonic bass synthesizer plug-in for Windows.
Genobazz 1.1 has some bugs fixed and some interesting new features, like a new type of waveforms modulation , the glide effect revised, changing octaves in the right click popup menu …

We hope you like this new version of Genobazz, and make some good music with it !
Changes in Genobazz v1.1
Tuning issues fixed (thanks to Frank from pro-sounds.net).
Retrigger bug fixed.
Glide effect revised.
New modulation mode.
Octave now show on pitch knob indicator.
Change the octave on right click popup menu.
Revised patch manager.
Patch can be renamed in the plugin.
Smaller CPU usage.
Revised GUI.
Revised patch bank and new patches.
Revised manual.
New languages in setup.
Genobazz is available to download as a freeware VST instrument for Windows PC.
More information: Tek'it Audio / Genobazz