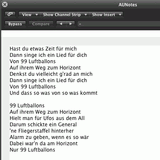 Teragon Audio has released AUNotes 2.0, a free Audio Unit plug-in designed for keeping text notes alongside an arrangement.
After a very long delay, AUNotes (formerly called "AudioUnit Notepad") has been rewritten and released.

Although AUNotes is compatible with any sequencer which supports AudioUnits, it is geared at Logic Pro users, since it does not allow you to have per-channel text notes like some other sequencers. This plugin provides a quick way for you to store extra information in your musical arrangements.

To use, simply instantiate the plugin in the desired channel in your arrangement, and type away. Your changes will be saved automatically when you save your document.
Changes in AUNotes 2.0
Complete rewritten interface which now uses internal document storage instead of the local filesystem.
Universal Binary (UB) for both Intel/PowerPC Macs.
Simplified user interface.
AUNotes is available to download as a freeware AudioUnit plug-in for Mac OSX.
More information: Teragon Audio / AUNotes