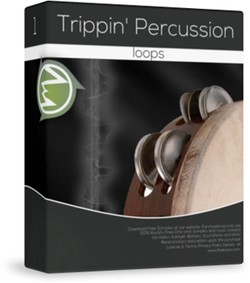 ThaLoops has announced the release of its Trippin Percussion Loops 1 percussion loops library.
The loop-set includes 160 advanced percussion loops, 480 files provided in 3 formats: REX2, WAV & AIFF. 262MB in total size. ThaLoops delivers an ultimate collection of percussion loops matching almost every hip hop production aspect. Wether you are producing a downtempo or an uptempo beat the percussion loop-set is featuring a variety of rhythmic patterns programmed to match your productions. Just add and mix-match your own kick and snare patterns with "Trippin' Percussion Loops 1" and save your production time. Live performance recordings were programmed into fresh hip hop percussion loops. Make your beats with ease and surprise your clients with quality. The innovative touch to your productions is guaranteed using percussion loops from the set.

To design 160 loops we didn't set the limits on percussion instruments to be used, so much that even stringed ethnic instruments were used for the rhythmic patterns. The loop-set stylistically is focused towards hip hop but can be easily used in pop, rock, dub step, dance productions. Due to modern DAW's time stretching capability we are providing loops in Top 3 loop formats: REX2, ACID WAV and Apple Loops AIFF.
Trippin' Percussion Loops 1 is available to purchase for $17.95 USD.
More information: ThaLoops / Trippin' Percussion Loops 1