That Sound has announced the release of Re: Taped, a new sample pack by its co-founder and Lead Sound Designer, Dustin Burnett.
The collection features drum one-shots designed and processed using multiple tape machines to capture real warmth, depth, thickness, and saturation. The pack also includes additional loops by producer Al Cres, who just wrapped up in the studio with Rihanna and David Guetta.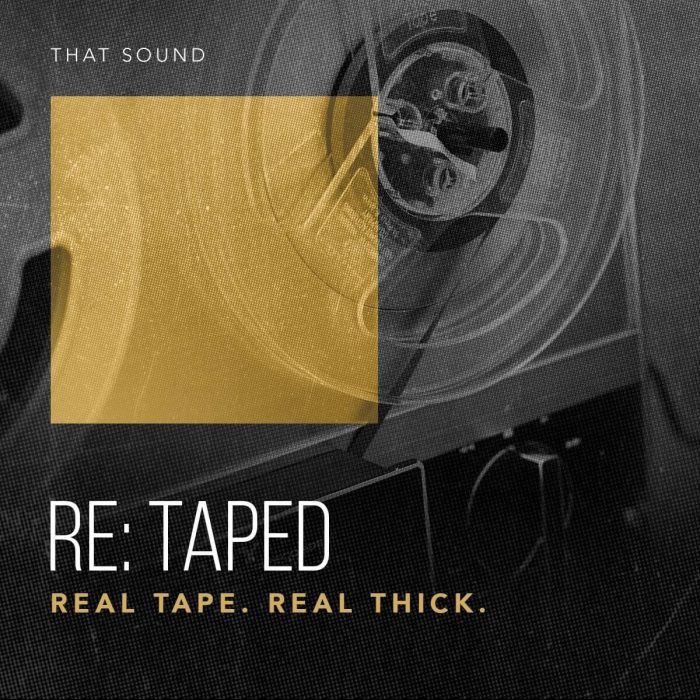 Our Re: Taped library is here to take a sledgehammer to your tape machine plugin. If you've ever recorded to tape, you know the warmth and depth that comes with recording this way. This library offers just that, drum samples with outstanding warmth, depth, and thickness.

Because we can tend to be a little particular about quality, here's a look into our process for capturing these sounds. We started with really great one-shot drum samples. After these one-shots were created, they were then recorded to a classic Sony 8th inch reel to reel and 2 different 4 track cassette recorders, put into Pro Tools and given real saturation by slowing down the speed and altering the playhead. The results are twice the thickness, depth, pitch, and warmth. We even left a touch of the tape machine's noise in the samples to make them feel like they've been lifted right off a record.

But make no mistake, these samples aren't lo-fi. You'll notice all of these samples come at you with impact. For you pop, hip-hop, chill-hop, trap, boom bap, and r&b producers looking to get on (or stay on) the top 40 … or you music makers creating tracks for licensing and placements … welcome to a new playground of sounds. Because if it's not the real thing, it's just make-believe.
Re: Taped features
178 one-shot samples, including 36 kicks, 40 snares, 24 hats, 21 percussion samples, 18 fx samples, 6 booms, 14 claps / snaps, 15 toms.
81 unique loops stemmed into 419 total wav files, 27 different tempos.
All samples come as 44.1khz, 24bit .wav files.
Presets for Ableton, Reason, EXS24, Battery 4, Maschine 2, and Kontakt 5 (full version).
Re: Taped is available at the intro price of $25 USD through the weekend (regular $35 USD).
More information: That Sound