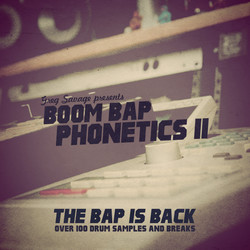 The Drum Broker has released Boom Bap Phonetics 2, a new sample pack featuring 200+ drum sounds and breaks by Greg Savage.
Boom Bap Phonetics 2 is the follow up to the wildly popular Boom Bap Phonetics Drum Kit by Greg Savage and features a slew of dope & original drum samples.
Boom Bap Phonetics 2
Added Spice: Drum Loops/Fills, (Clean/filtered versions).
Sampler's Dream: Kept it RAW for you to chop and filter.
Over 100 Samples (16-bit): Kicks, Snares, Breaks, Fills, Hi Hats, Bass, Loops.
Compatibility: Logic X, Pro Tools, Cubase, Reason 7, Fl Studio, Digital Performer, All Hardware Samplers: Akai Mpc 3000, 2000Xl, 1000 Maschine.
Recording Chain: Live Drums → Microphones (Multiple Condensers/Dynamics) → Joe Meek Preamp → Mpc 3000/Sp303.
Bonus: Select Stem Files, Multiple recording perspectives (Motown Style).
The sample pack costs $24.99 USD.
More information: The Drum Broker