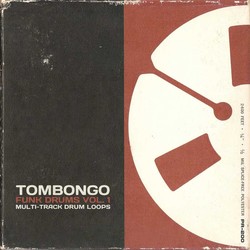 The Drum Broker has released Tombongo Funk Drums Vol. 1, a collection of multi-track drum loops.
This is the very first full length release from Tombongo & Drummer Richard Preston and features 87 old school funk and soul drum loops released in multi-track format. These are original, royalty free drum breaks.

The multi-track packs offer separate .wav stems for the bass drum, snare drum and left and right overhead channels for each loop so that you can achieve independent control of the mix levels and greater control of EQ and effects.

Every care was taken to capture an authentic and truly awesome drum sound by using vintage drums and microphones, and recording directly onto 2″ tape at the wonderful Gizzard studios, London.
The sample pack costs $9.99 USD.
More information: The Drum Broker