Hal Leonard has announced the Josh Bess Webinar Series at Groove3.com, featuring a collection of live-recorded webinars that cover various music production topics with expert and Ableton Certified Trainer Josh Bess.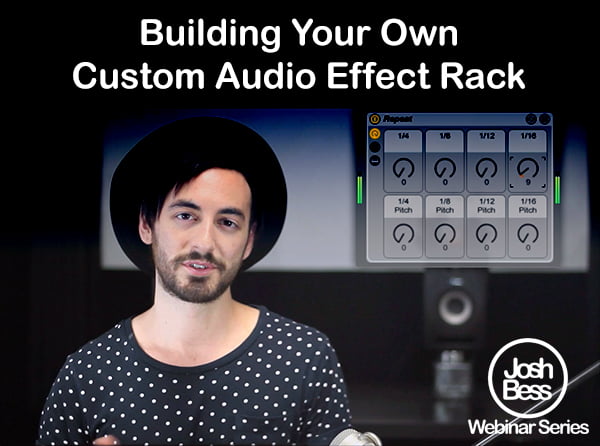 In this series, Josh takes you into his home studio in Tokyo, Japan, and invites you to watch his video streaming webinar series.

Each tutorial includes a recording of a live-streamed video lesson including a Q&A session with the participants. This is a new form of instruction as viewers participate with questions that Josh answers within the session, so each webinar has an intimate feel to it as if you are attending a private lesson with the expert.

While Josh's DAW of choice is Ableton Live, the tips and tricks can be used with any DAW.
The first two tutorials are now available at Groove3.com:
01: Building Your Own Custom Audio-Effect Rack – How to create one of Josh's favorite and most useful custom audio effect racks in Ableton Live, how to apply effects for original music productions and live performances.
02: Creating a Song from a Vocal Sample – How to create a full song from a one-shot vocal sample, how to get started and how to proceed to arrive at your own original music, along with lots of helpful techniques to apply to your music.
April 14th will see the launch of the 3rd and 4th tutorial – "How Drum Grooves Control the Genre of Music" and "Creating a Natural Drum Sampler", and tutorial 5 and 6 – "Garden Eel Sampling" and "Transforming Your Music Into Any Environment Imaginable with Audio Effects", will be available April 28th.
More information: Groove3 / Josh Bess Webinar Series