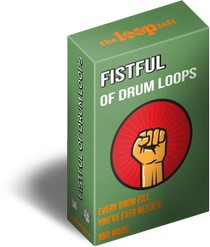 The Loop Loft has released Fistful of Fills, a collection of drum fills.
Drum fills. They're an essential component to almost every song. Whether you're a songwriter looking to transition a verse to a chorus, or a DJ remixing a track, it's the drum fills that help propel the music forward. This is exactly why we combed through the entire Loop Loft archive to hand select only the most inspiring fills from our collection.

From thunderous walls of toms, to funky snare flams, to roaring jazz crescendos, Fistful of Fills provides you with 200 unique drum fills, spanning every genre of music. From 65 to 300 bpm, from bebop to indie rock, you'll find that perfect fill to move things forward.
Fistful of Fills is available to purchase for $29 USD.
More information: The Loop Loft