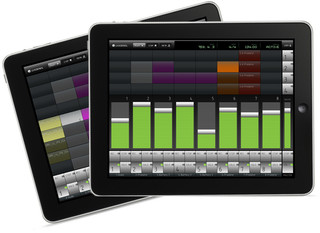 Nuno Santos and Afonso Barbosa have released LIVKONTROL, a simple yet powerful Ableton Live remote controller app for iPad.
It features an incredibly fast response and an extremely simple configuration, all for maximum control and performance on your Ableton Live based live acts.
LIVKONTROL features
Ableton Live remote controller ideal for live act performances.
Optimized size, layout and interaction for iPad.
Scrollable view for scene total access.
Launch entire scene rows.
Clip reflects colour, name and play status.
Mute, stop, solo and arm tracks.
Control track and master volume in a intuitive and space saving format.
Special lock feature.
Song play, stop and metronome control.
LIVKONTROL is available to purchase for the introductory price of $4.99 USD (50% off regular).
More information: LIVKONTROL