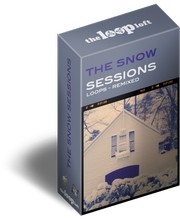 The Loop Loft has released The Snow Sessions, a free collection of drum loops.
20 inches of snow. 4 cups of coffee. 10 remixed loops. That is the story of The Snow Sessions. With the worst blizzard in years causing Boston to come to a complete standstill, we at The Loop Loft decided to take full advantage of being snowed in at the studio and remix some loops. And better yet, we decided to give them away for free.

Randomly selecting ten loops from the 1,842 that live inside of our popular Platinum Pack, we fired up Reason 5and set forth distorting, squashing, bending and reversing a wide array of beats, turning them into something completely different from their original, pristinely produced state.

So here you have it – The Snow Sessions. To download, just select your preferred file format (WAV, AIFF or REX2), add to your cart and checkout… no credit card required. Enjoy!
More information: The Loop Loft