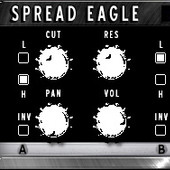 The Lower Rhythm has released Spread Eagle, a spatial effect plug-in for Windows.
A different breed of imaging processor, Spread Eagle clones your stereo input and gives you full pan, level, and filter (low or high pass) control over three copies of the signal before merging it back together into a stereo output.

With an additional toggle for phase inversion you can mix, match and blend different sounding copies of your source to get that perfect stereo field placement.
Spread Eagle features
Three distinct stereo channels.
Channel-dedicated panning.
Channel-dedicated LP / HP filtering (12dB/oct).
Channel-dedicated phase inverters.
Spread Eagle for Windows (VST) is available to purchase for $7.99 USD.
More information: The Lower Rhtyhm