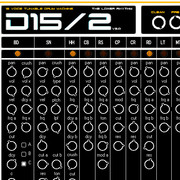 The Lower Rhythm has released version 3.0 of D15/2, a stereo, vintage-style analog drum module with a huge number of tweakable settings, allowing the user to alter nearly every possible parameter that defines how the drum voices sound.
Geared towards analog fatness and crunchy glitch, the D15/2 packs a total of 16 voices (including a twin bass drum channel), global and channel-dedicated bit crushers as well as an output consisting of two stereo channels: clean and dirty (tube amp simulator w/added bit crusher and tube drive stage). With an uncommon variation in control parameters and a great sounding engine, the D15/2 provides all of the vintage bass and modern, overdriven chaos that anyone could ever ask for.
Changes in D15/2 v3.0
*Greatly* expanded control over voices (now over 85 para in the control section!)
Improved bit crushers.
Additional filtering added for snare / hihat.
Brand new drum kits presets (as well as old favorites!)
New snazzy GUI.
D15/2 for Windows (VST) is available to purchase for $24.99 USD.
Visit The Lower Rhythm for more information.