The Mix Challenge audio community has announced it is celebrating the 5th anniversary of the Mix(ing) Challenge.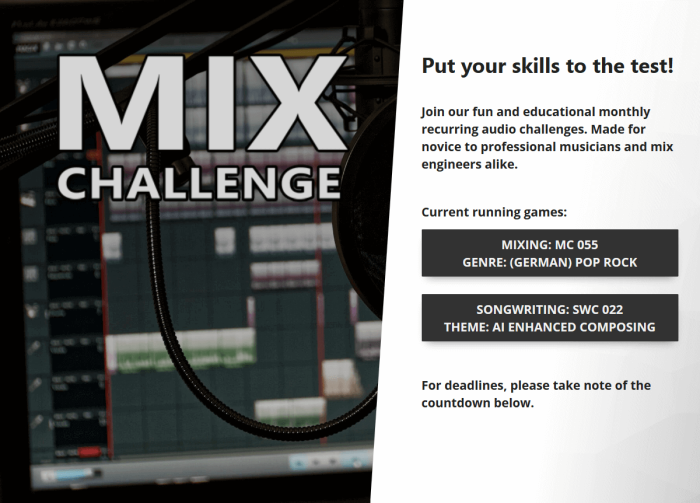 It is hard to believe that 5 years ago, the Mix Challenge had it's first run on KVR Audio. A lot has happened since June 2014. Including the creation of a dedicated community page, plus a steady run of 54 mixing challenges and 21 songwriting competitions. There are still no plans to stop anytime soon.

A ginormous thank you to all participants, license sponsors, supporters and people behind the scenes that helped shape the Mix Challenge audio community into what it is today, and keep the gears running. May these games continue to be an inspiration to aspiring musicians and/or mix/audio engineers all over the world, and remain a place to gain experience and learn new things in the process.

Happy 5th Anniversary, Mix Challenge.
The following challenges are currently open to compete in:
Mix Challenge #055:

Have the chance to work on a (German) Pop-Rock production.
Deadline: 21st of June.

Songwriting Competition #022:

The theme being "AI enhanced composing".
Create a production in any genre you feel like.
Deadline: 24th of June.
Prizes will be awarded to the Winners Podium. Among them (selection): Acon Digital, Ghostwave Audio, Hollow Sun, Hornet Plugins, IK Multimedia, JRR Sounds, kv331 audio, Luftrum, Metric Halo, MuTools, NOS Audio, Rekkerd Sounds, Satyatunes Graphic and Sound Design and Tone2.
More information: The Mix Challenge