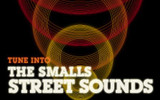 The Smalls has launched Street Sounds, a new site created in association with Scion to capture location-based sounds that together reflect our surroundings and define our lives.
Street Sounds is a collaborative and interactive Web site where lovers of art, sound and humanity can document their lives through snippets of sound that are posted on a 3-D map. Filmmakers, musicians and other artists can then search for sounds by keyword and location to use when creating new collaborative works of their own.

Streets Sounds allows users to listen in on everything from such rousing moments as a campus protest in Berkley or subway performers in New York, to funny and intimate vignettes, such as one's laughter, a patron ordering a beer, or the rain. For contributors and listeners alike, the experience can be enchanting and addictive.

"With The Smalls Street Sounds, we aim to create the largest online collaboration of free, user-generated sounds that will encourage people to listen to the sounds of America and stimulate creative expression," said Anna Grund, Founder, The Smalls. "Most of our lives are made up of multi-sensory experiences. The Sound Map provides people with the opportunity to focus on one – sound – to present and explore their world, and most importantly to let their imagination wander."
Every month, the biggest contributors of sounds can win a free iPod.
More information: The Smalls Street Sounds