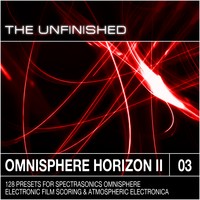 The Unfinished has released Omnisphere Horizon II, a collection of 128 patches for Spectrasonics' Omnisphere aimed at electronic/hybrid film scoring and atmospheric electronica.
In Horizon II you will find deep, punchy basslines; pulsing, thrilling synth sequences; evolving, driving percussion loops; lush, detailed pads and soundscapes; plus growling basses, emotional pianos and epic impacts.

This comprehensive and immersive collection is designed to be a 'go to' resource for soundtrack and electronica projects, whether you're looking to add depth to an existing track or kickstart some brand new ideas. The scope of the 128 sounds in Horizon II is wide enough to write whole cues without using any other synths or libraries; and all the sounds have programmed with immediate, flexible and dynamic control dialled into the modwheel function.

Horizon II builds on the dark, dynamic underscore nature of Horizon, adding a number of 'lighter' more ethereal sounds in the spirit of composers/producers such as Cliff Martinez, Brian Eno and Thomas Newman. If you need fresh, new sounds for your film, game or media project, then Horizon II is an essential bit of kit.

The original Horizon is already being used in films, TV series and games soundtracks around the world.
Omnisphere Horizon II is available to purchase for £19.99 GBP. A free 'taster pack' of 15 sounds from the collection can be download for free.
More information: The Unfinished / Omnisphere Horizon II