THEPHONOLOOP has announced the release of its new Kontakt instrument library Tapes: Synths.01, featuring sounds recorded on tape reel, cassette tape and microcassette.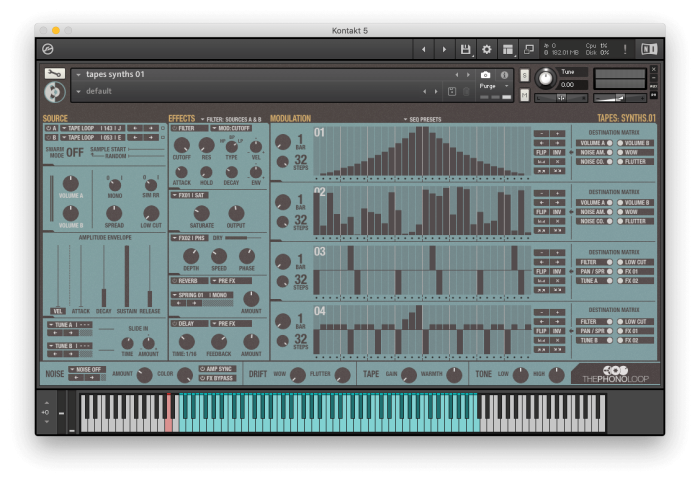 Synths.01 is the first instrument in the Tapes series and like the name suggests, it focuses on synth sounds and sound synthesis in general. The sound sources were created using various hardware and software synthesizers and effects – from digital FM and physical modelling synths to analog (and digital) eurorack modules.

Due to the fact that everything was recorded either on tape, cassette, micro cassette or cassette tape loops it excels in creating lofi, warm sounds, but not all decks used in Tapes are wonky – plus most of the significant settings can be modulated, so it's also a nice tool for creating modern, even cinematic sounds.
Tapes: Synths.01 features
17.15 GB of samples (WAV 24-bit, uncompressed), 13.66 GB after lossless Kontakt compression (8,312 samples in total).
285 sound sources.
239 presets.
Samples recorded using 13 different decks.
34 noise samples.
Warm sound with lots of little imperfections.
Convolution Reverb with custom impulses (spring, hall, corridor, short, digital, delay, metal).
Lots of sound design options.
4 sequencers for parameters modulation.
Swarm mode.
Tapes: Synths.01 is available from THEPHONOLOOP and distributor Plugin Boutique, priced 90 EUR ex. VAT. Requires Kontakt 5.8.1 or higher, full version.