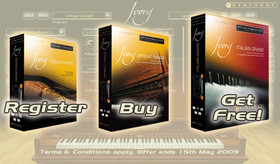 Time+Space has announced a special offer for Synthogy's Ivory Grand Pianos users.
Until May 15th 2009, registered users of Synthogy's Ivory Grand Pianos can get the Ivory Italian Grand completely free when they buy Synthogy's most recent release – Ivory Upright Pianos for £190.00 / €194.77.

All three products have received excellent reviews in the industry press, with Upright Pianos receiving several awards since its release last summer, not to mention endorsements from numerous composers and musicians including Wu Tang Clan's RZA!

Of course, customers could also purchase Ivory Grand Pianos to get the special Upright Pianos with free Italian Grand bundle.
More information: Time+Space