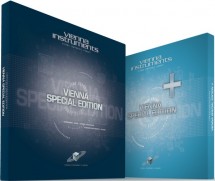 Time+Space has announced the Vienna Instruments competition, a chance to win Vienna Instruments worth over £1000 GBP.
The Vienna Instruments are among the most powerful virtual instruments on the market allowing composers, arrangers and music producers to reproduce every nuance soloists or ensembles are capable of playing with absolutely authentic results.
One of Vienna Symphonic Library's most popular choices amongst end users is the Special Edition which brings together the complete orchestra (and more) in an affordable collection. Earlier this year, the Special Edition PLUS was released offering new articulations for all the string, brass and woodwind instruments included in the Special Edition Standard and Extended Libraries.
To celebrate the fantastic press reviews and popularity of these products Time+Space are giving you the opportunity to win a bundle of Special Edition products worth £1,190!
The competition is open to anyone, anywhere and the closing date for entries is 31st October. Winners will be announced on or around the 1st November.
Visit Time+Space for more information on how to enter.