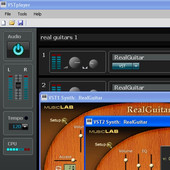 Tocca-Music has released VSTplayer, a VST host application for Windows.
VSTplayer is a freeware (donationware) VSThost application for Windows. The application is mainly designed for live performance for keyboarders who want to use VST plugins on stage. The VSTplayer supports up to 4 midi keyboards. Each project file can open up to 8 VST plugins and 3 effects on each row.
VSTplayer for Windows is available as a free download. After a trial period of 15 days it will slow down on startup until you donate to obtain a personal serial number.
More information: Tocca-Music