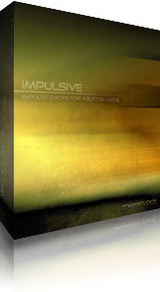 Togeo Studios has released Impulsive Drums, a drum library for Ableton Live 8.
The racks include the Humanizer and improved Pattern Changer midi devices introduced in our Drum Bits Live pack. Other built-in audio effects are the ping pong delay, phaser, chorus, reso delay and reverb. There is also a compressor and a limiter in the final stage of the racks to control the output signal.

Ableton Live ReadyThe Impulse racks have macro controls for the sample start, kick drum tune and decay, global kit transpose and time stretch, velocity sensitivity and volume gain. The single drum kit racks have a random panning macro knob which is replaced by the kit layer morphing macro in the multi-layered kits.
Impulsive Drums features
600 Impulse device racks for Ableton Live 8.
A massive set with 150 base drum kits, 450 single- and multi-layered morphing instrument racks with effects.
Including 495, 24-bit drum samples and 6 live sets with an assortment of midi clips.
Requires Ableton Live version 8.1.1 or higher.
Impulsive Drums is available to purchase for 19.99 EUR.
More information: Togeo Studios