Plugin Boutique has launched a sale with 60% off on the Black Q plugin by Tone Empire, a vintage equalizer effect that brings the sound of "smooth tubes".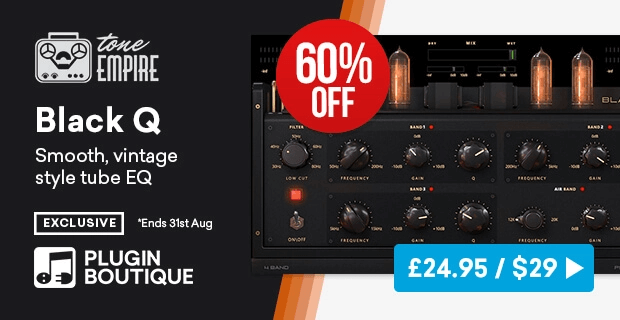 We recently brought a vintage unit to life by building the hardware version over 6 months, changing tubes, transformers and signal paths.

In this quest we build a " Golden Unit " with "Super Powers". We had the idea then to model this curcuit with 2 paths involving sowter and lundahl transformers and some choices of vintage valves. The result was simply "Stunning".

Then combining this with a versatile EQ Design, we developed a monster Tube EQ in the DSP world, a kind of hybrid with a sound going from "Clean and Silky" to full on "Crunchy" sounding saturations.
Black Q is on sale for $29 USD until September 1st, 2020 (regular $79 USD). The plugin supports VST, AU and AAX formats for Windows and Mac.
More information: Tone Empire