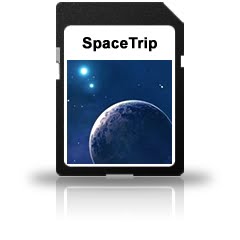 Tone2 Audiosoftware has launched SpaceTrip, a new soundset for the Icarus synthesizer instrument.
Exploring the experimental and atmospheric side of icarus's 3D wavetable synthesis, the SpaceTrip set is filled with over 200 intricate sound impressions that will help you set the mood perfectly. Featuring otherworldly soundscapes, transcendental pads, organic drones, interstellar effects, abstract synths and comprehensive arpeggios.

SpaceTrip is mysterious, evolving and packed with a wealth of creative twists for you to explore.

Perfect for many genres, such as Electronica, Cinematic, Soundtrack, Berlin School, Ambient, Film score, Atmospheric, Chillout, Space, Industrial, Trance, Hiphop, EDM and a wide variety of other music genres.

This soundset supports modwheel, velocity and aftertouch. For enhanced usability the volume of all sounds have been carefully normalized. The high quality sounds are a hand-picked selection created by a large team of professional sounddesigners: Bigtone (BT), John Lehmkuhl / PlugInGURU (GURU), Mac of BIOnighT (Mac), Xenos (XS), Ed Ten Eyck (EDT), Massimo Bosco (MxS), Brandon Clark (BC), Satya Choudbury (sT), Ingo Weidner (IW), Reinhard Reschner (RR), Patrick Gambart (PGT), SupremeJA (SJA), Torben Hansen (TH), Lukas Jankowski (TTS), Carl Schmeller Noizefield (CPS), Felingen (FLN), Maliki (MR), Nathan Fox (FOX), Ranzor Emmanuel (RZ), Solidtracks (ST), Carl Lofgren (PH).
SpaceTrip features
201 superb presets created by many different professional designers.
Unique sounds using the innovative 3D wavetable synthesis.
The patches contain a large number of new wavetables and waveforms.
Comfortable installation.
Seamless integration into the user interface.
Only high-quality content. No 'gap filler' patches.
All sounds are properly programmed – they are 'not just samples'. This gives you the complete dynamic range, a lot more expression and the highest possible sound quality.
Most patches can be 'morphed' with the modwheel.
SpaceTrip is available for purchase for 29 EUR/$39 USD.
More information: Tone2 Audiosoftware / SpaceTrip for Icarus