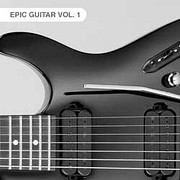 Tonehammer has announced the release of Epic Guitar Vol. 1, a guitar sample library for Kontakt.
Tonehammer spend over six months developing this library with one of the best heavy session guitar players in the Scandinavia, Danne Forsblom. Danne used his custom 6, 7 and 8 string guitars in the sessions and played them through a variety of different amps and custom FX pedals. All riffs were recorded between X4 to X16 times (Yes, friggin 16 times!) with ultra-precision resulting in an unprecedently big sound. The core stacking technique is controlled by adjustment of modwheel on the keyboard controller.

The core library contains nearly 2000 riffs/phrases/licks, which are divided into 7 core tempos: 80, 90, 100, 110, 120, 130 and 140 BPM. All the loops/riffs were meticulously edited, so they stay in sync and adapt to host tempo, so you can literally use the loops in any tempo you desire. The style of the library is a mixture of nu metal with a a touch of hard rock/funk on top. We also wanted to ensure longevity and variety in the content, so it both contains more traditional 4/4 type of rhythm riffs, while also having several hundred melodic and rhythmically memorable type of phrases, so the users can literally create new songs out of the content in a matter of minutes.
Epic Guitars Vol. 1 features
Instruments/articulations:

1.984 Riffs/Phrases
6 (drop tuned), 7 & 8 String Guitars
Modwheel control of stacking (allows you to stack from 2 to 4 guitars at same time)
Pitch bender control of FX
Host syncronization
Recorded through several amps and custom FX pedals
4-16 times riff stacking
80, 90, 100, 110, 120, 130 and 140 BPM

Key-switch pitch control allow shifting up to +/- 3 semitones.
Extensive read me (.pdf) install, patch and hint documentation.
27 BPM banks / 1.984 phrases / loops.
1.1 GB installed, 684 MB .rar download.
Sample resolution: 44.1Khz / 24Bit stereo .wav format.
Format(s): Kontakt 3, EXS24 and .wav.
Note: Native Instruments Kontakt 3 / 4 full retail versions required for all Kontakt instruments. The library is partially compatible with Kontakt 2, but we strongly recommend Kontakt +3 for full functionality.
Note: Free Kontakt Player will only work for 30 minutes with this product. Full version required to remove this restriction.
Please contact Danne Forsblom for custom session work.
Epic Guitar Vol. 1 is available to purchase for the introductory price of $79 USD until 26 December, 2009 (regular price $99 USD).
More information: Tonehammer