Tonehammer has released Kalimba, a tuned percussion instrument and a variant of the African Mbira.
It's essentially a hollow wooden box with metal keys attached to it. The instrument is plucked with thumbs and the wooden box helps increase the resonance of the metal keys. However Tonehammer took it to the next level.
Kalimba features
3 Locations (Dry, Small Bright Hall, Large Dark Hall), 4 total microphone positions (Dry, Small Hall Far mics, Big Hall Close Mics, Big Hall Far Mics).
Sample resolution: 44.1Khz/16Bit.
4 x 2 instrument patches (untuned / tuned), 1,036 samples, 609 MB installed, 202 MB download.
Format(s): Kontakt and .wav
Kalimba Read-Me (.pdf) instruction with keymaps and pictures.
Note: Native Instruments Kontakt 2.2.4 / 3 full retail versions required.
Kalimba is available for purchase now for $25 USD. Some demo tracks are available on the product page.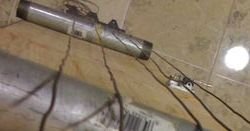 Tonehammer has also updated Frendo, a custom-built Tonehammer instrument.
We created this monster by stringing bailing wire around and through through steel plates and bolts, over galvanize steel piping and across wood planks.
The update adds a second microphone position from inside the actual resonance chamber of the Frendo itself. The new included set is called the Heads collection.
It also adds 16 new instrument patches, +672 new samples and +600 MB to the grand total, way more than doubling the size of the library.
Frendo is available for $39 USD and existing Frendo users who bought the old hall mic-only version on will be receiving a free upgrade to the new and improved library.
Visit Tonehammer for more information.