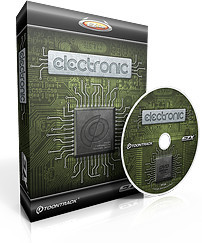 Toontrack has announced the Electronic EZX, a modern collection of classic, circuit bent and resampled electronic drum sounds for EZdrummer and Superior Drummer 2.0.
Designed by Brad Bowden and Richard Devine, this EZX® includes 33 meticulously crafted kits with 100+ additional sounds of the most requested electronic kick and snare drums. It also features our ever-popular use of parallel FX processing in the mixer window for unlimited variation and sonic depth.

Whatever your style, we got your drum sounds. House, Techno, Progressive, Pop, Hip-Hop, Rap, Electro, Grime, Jungle, DnB, RnB, Dub-Step, Trip-Hop, Acid, Disco, Crunk, Industrial, Experimental, Noise-core, Hard-core, Minimal, Glitch, Gabba, Ambient, Trance. If you've heard it, we got it. If you think it's not possible, now you can.

This is Old School, Modern and Future all rolled into one.
The Electronic EZX will be available in November 2009.
More information: Toontrack / Electronic EZX