Toontrack has released Bulb, a new collection of presets for its Superior Drummer 2.0 virtual drum instrument.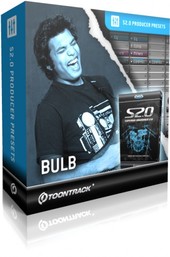 If you listened to any American progressive metal over the past five years, you have more than likely heard his work. Syncopated rhythms, inspiring guitar tones and epic drum sounds have been his production calling card since he burst onto the metal scene in 2005. Thats right, were talking about Misha "Bulb" Mansoor, the prolific musician and producer behind metal projects like Periphery, Haunted Shores and Of Man Not Of Machine, just to name a few.

For years now, "Bulb" has been using Superior Drummer® 2.0 to help design and implement his creative, often wildly complex drum tracks. For the first time ever, "Bulb" is making some of those signature drum sounds available to you! Welcome to the latest addition to the S2.0 Producer Presets family: S2.0 Presets – Bulb.

Designed to work with the Avatar library that comes standard in Superior Drummer® 2.0, "Bulb" has created five (5) unique presets to help your next round of drum tracks cut through and stand out in a sea of distorted guitars, swift time changes and guttural vocals. If you make any sort of modern metal, rock or hard rock music with Superior Drummer® 2.0, these presets are a must have.
S2.0 Presets – Bulb is available to purchase for $15 USD / 12 EUR.
More information: Toontrack