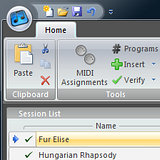 Topten Software has released version 2.0 of Cantabile, a powerful host for virtual music instruments and audio effects with an emphasis on real-time performance and use in live performance situations.
Cantabile 2.0 brings tons of new features and improvements, and a new version is introduced: Cantabile Performer offers an exciting new platform for live performers.
Cantabile Performer features
Excellent real-time performance.
Flexible plugin management.
Advanced MIDI routing and manipulation.
Individually triggerable media clips.
Fast and flexible configuration switching.
Easy keyboard splits.
Large font status panel.
Send and receive MIDI clock.
Proven reliabilityv
Cantabile Performer is available for Windows PC for $150 USD. Check the features page for details on the differences with the Lite (free) and Solo version.
Visit Cantabile for more information.