Waves has released two new products in its Hybrid Line, H-Delay and H-Comp.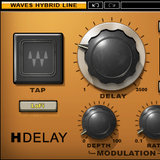 H-Delay Hybird Delay
From real old school PCM42-style effects like filtering, flanging, and phasing, to slap-back echo, ping-pong delay, and tempo-sync with modulation, H-Delay delivers the goods, controlled by a super intuitive interface that lets you get right down to business.
H-Delay features
Up to 3500 ms delay time
Variable pitch delay time behavior
Analog character modes
Infinite feedback support
LFO-controlled pitch modulation
LoFi mode
Tap + BPM sync
Full MIDI support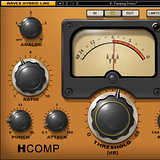 H-Comp Hybird Compressor
H-Comp is a brand new dynamics processor that combines the modeled behavior of transformers, tubes, and transistors, together with the power and precision that only a plug-in can provide. The result is a compressor with capabilities that engineers could only dream about back in the day. H-Comp lends a whole new meaning to the concept of THD: Total Harmonic Distinction.
H-Comp features
Analog modeled release behavior
Wet/Dry mix for easy parallel compression
Unique transient pass-through control
Exclusive BPM-sync release function
Analog character modes
Output limiter/clipper modes
External sidechain support
BPM Readout
H-Delay and H-Comp are available for Windows and Mac in native versions for $200 USD each, and TDM versions for $400 USD each. The plug-ins are available at no additional charge for Gold, Platinum, Diamond, and Mercury V6 owners covered by Waves Update Plan.
Visit Waves for more information.