Cescato Musiktechnologie has released v2.6 (beta 2) of Trans Computer Maschine, a virtual instrument plugin for Windows.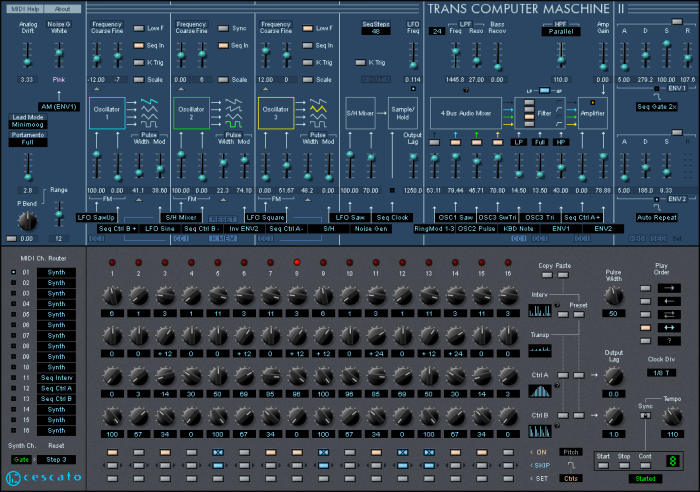 T-C-M is a semi-modular vintage lead synthesizer and pattern sequencer, firstly modeled after two legendary synths and a custom analog sequencer from Germany.
Changes in v2.60 (beta 2)
Added 2, 3, 4 and 8 steps counters ('Steps Trig') to S/H trigger sources.
Fixed serious backward compatibility issue arised in previous beta.
Improved Sequencer blinking alert in 'Synth Ch.' display for 'Gate' mode.
Updated GUI featuring some redesigned switches and buttons.
Changes in v2.60 (beta 1)
Added 'K Trig' switches (keyboard play sync) to Oscillators 1 and 3.
Added 'Play Order' display featuring user-friendly symbols for each mode.
Added 'Seq Ctrl' gate sources to Envelopes, emulating the Synthanorma PWM.
Fixed a minimum delay in the S/H that was only noticeable in certain patches.
Fixed CPU overload in patches not using the 'LP Filter'.
Fixed MIDI CC6 occasionally ignored.
Improved 'Filter' featuring true analogue modulation at audio rates.
Improved Oscillators anti-aliasing for extreme frequency modulation.
Limited S/H frequency to 20Hz for alias-free operation.
Optimized Ring Modulator for alias-free operation.
Replaced 'Inv Envelopes' in Noise modulation sources with 'AM Envelopes'.
The new version, bundled with two sound banks by Kujashi is available as a free download in 32-bit VST format for Windows.
More information: Cescato Musiktechnologie