Transformizer has announced version 1.2 of Transformizer Pro, offering improvements in several important areas of the new sound design plugin.
All of the new features are added as a direct result from listening to feedback from professional, real-world users, who have been using Transformizer Pro since its release in October 2017.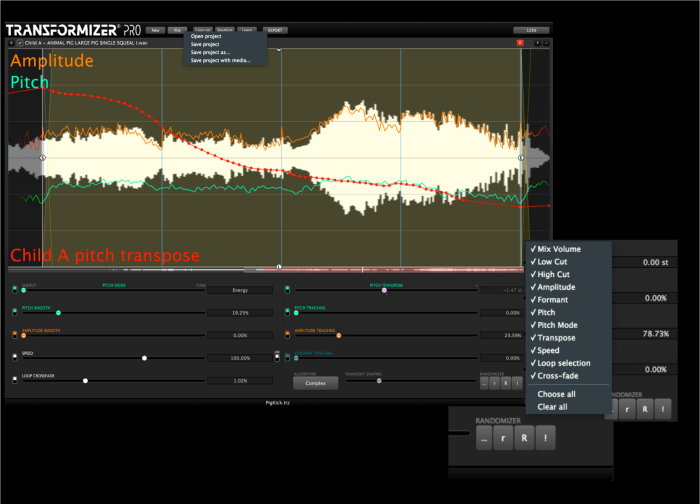 "The version 1.2 update will make Transformizer Pro an even stronger sound design tool than ever before," says co-founder and Creative Director Lars-Bo Kjær. "Many of the new features focus on emancipating the users' creativity by adding some highly inspirational functionalities such as the Randomizer, Zoom and Automation.

Others are with a view to making the audio file structure within the DAW more intuitive and easy to use. And put together all of these new features will definitely increase the users' workflow, efficiency and results massively."
Single Section Window Selection
It is now possible to zoom in on a dedicated part of the overall Transformizer Pro window that in turn allows the user to focus on one specific task, which can be done by using the 1, 2, 3 or 4 numeric keys or a new, dedicated view key.
Randomizer
The new Randomizer function puts creativity front and center. There are three variations to choose from: 10%, 20% and 'Spaghetti on the Wall' so to speak, meaning total randomization of all randomizable parameters. Further it is possible to set the degree of randomization, not only for each section individually, but also pinpoint exactly which parameter within each section to be randomized.
Automation
Now Transformizer Pro allows you to write and read automation data for all relevant parameters in the waveform window, which will impact the users workflow and efficiency significantly.
Save Project with Media
The 1.2 update will make underlying structure of the audio files used within Transformizer Pro much more intuitive and efficient, making it easy to move projects between different locations without experiencing missing audio files.
Toggle File Selector
Also, a toggle file option has been added to enable reselection of sounds in the current folder. Reads the metadata of the file.
Transformizer Pro version 1.2 for Windows and Mac (VST/AU/AAX) is available now, on sale at $499 USD (regular $599 USD).
More information: Transformizer