Tru-Urban has released Speaker Buster, a new 808 and Synth Bass module for Kontakt.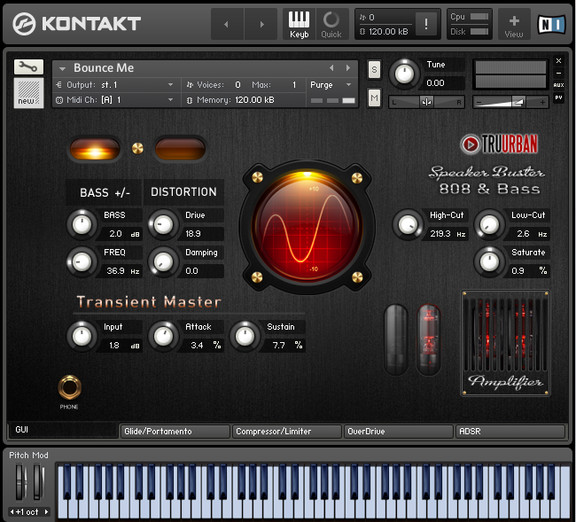 Speaker Buster features an array of different 808 basses tuned just like a piano, designed to add the right punch, tune and character for urban productions. The library includes a wide range of styles and flavors, from tight controlled 808's, to ignorant sub bass.

The release includes over 100 different 808 bass patches and over 35 Synth bass patches designed to be instantly ready to use for quick and inspiring production. Speaker Buster also features a full suite of tools and effects ideal for crafting 808 & bass sounds intended to allow producers to quickly and easily mix, shape and even create 808 bass and synth bass sounds using the on-board tools and effects.

Speaker Buster is designed to deliver the sound of today's Hip-Hop/R&B melodic 808 bass grooves with the freedom to "push the envelope" and to create new and innovative sounds. Speaker Buster also delivers the classic sound of R&B bass sampled from Moog/Mini Moog Analog Synthesizers.
Speaker Buster features
Over 100 808 bass patches (includes raw 808 samples and patches for creating customized 808's).
Over 35 Analog Synth Bass Patches (sampled from legendary Moog/Mini Moog synthesizers).
Full suite of tools and effects for crafting your own bass sounds.
Glide/Portamento/Legato.
Compressor, Limiter, Low Band EQ, Low Cut Filter, High Cut Filter, Saturation, Distortion, Overdrive, Transient Master, AHDSR.
Easy to use, user friendly interface.
All samples in .wav form included.
The library is available for purchase for $99 USD. Requires full version of Kontakt 5.3.1.37 or later.
More information: Tru-Urban / Speaker Buster