Signum Audio has announced the release of the Bute Loudness Suite, a collection of pro-audio tools that are designed to improve workflows in professional studio environments.
Following the previously released Bute Loudness Analyser, Signum Audio has added a True Peak Limiter and AudioSuite Normaliser to offer a complete integrated loudness solution.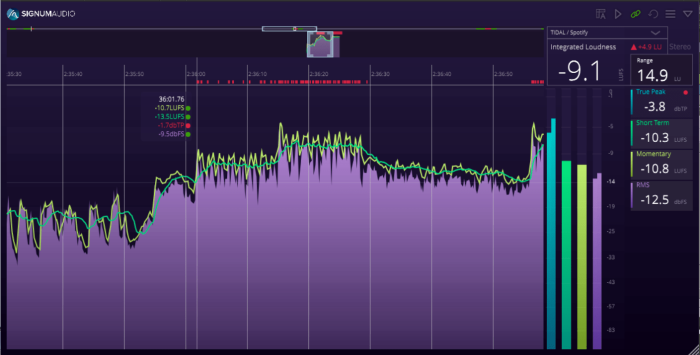 Designed with post-production and broadcasting in mind, Bute delivers a number of unique workflow features in a sleek, intuitive interface.

At the core of the suite is the Bute Loudness Analyser, which includes a custom warning system, a history overview that can be easily navigated and zoomed showing areas of your mix which require attention at a glance, DAW Sync for automatic re-metering, and a multitude of meter ballistics. It also reloads metering data from previous sessions and can handle over 10 hours of data.

Since the initial release of the Analyser, the team have been hard at work building additional tools to transform Bute into a one-stop-suite for all loudness-related needs. The new ultra-transparent True Peak Brickwall Limiter and AudioSuite Normaliser use a novel approach to guarantee reliable results and exceptional quality. In addition, the AudioSuite Normaliser allows you to accurately comply to a myriad of loudness standards with the single click of a button.

There will be further updates to come in future making Bute an invaluable tool for any serious Mixing or Mastering engineer.
The Bute Loudness Suite is available in VST/AU/AAX (including AudioSuite) formats for Windows and Mac OS X. It is available for £199 GBP (Stereo) / £249 GBP (Surround).
The Bute Loudness Analyser is now available at a reduced price, at £69 GBP (Stereo) / £89 GBP (Surround). All prices ex. VAT.
You can download a free two week trial to test all the features out for yourself.
More information: Signum Audio