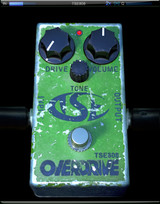 TSE Plugins has released TSE 808, a free effect plug-in modeled after a Tube Screamer.
TSE 808 features
Drive, volume and tone controls.
Bypass switch.
Input slider adjusts the input signal going into the plugin.
Dual or quad oversampling (2X/4X).
Stereo switch for use with two guitars at once.
Internal precision quality slider (5.0 millivolt to 5.0 microvolt).
Modeled/Programmed in C++ by onQel (John A. Johansen).
GUI / Artwork by FrankZappa.
TSE 808 is available to download as a freeware VST effect plug-in for Windows PC.
More information: TSE Plugins