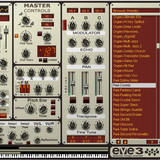 Wusik has announced the release of Wusik EVE 3, a virtual synthesizer instrument for Windows and Mac.
EVE stands for Electronic Vintage Ensemble, which suggests the design philosophy behind the instrument. EVE was made to recreate in the virtual world of softsynths the exciting and immediate experience of the early age of electronics in pop, rock and jazz music from the 1960's and 1970's.
Changes in Wusik EVE v3
Added: Stereo and Mono WusikSND Support.
Added: 32 and 16 bits WusikSND Support. Plus, the 16 bit files will use 16 bit buffers but 32 bit processing, therefore, the same audio-quality but with half the memory usage.
Added: Quality option with up to 16 times Oversampling.
Added: Integrated ARP with several options.
Added: User-Skinable option via BMP files. (no resizing).
Added: One shot sounds: once a sample is done playing, it releases the voice (eg: drum sounds).
Added: The preset browser on the right now let you browse banks and sounds too, with no limitations of sub-folders and file-name lengths.
Added: The preset browser now has the following options for presets: copy, paste, move up, move down, init, remove and rename.
Added: Master Vibrato ("V" knob next to Fine-Tune – On by default) Assigned to both Mod-Wheel and Aftertouch, but Aftertouch has priority, so if your keyboard has this function, it disables the Mod-Wheel for the Master Vibrato.
Added: Option to Bypass all Effects. (global menu).
Updated: Midi-Learn now supports Aftertouch.
Updated: Improved Pitch-Bend. (Smooth).
Fixed: audio problem with short waveforms (eg: pure sine).
Fixed: ARP not working on some patches. (3.0.1)
Fixed: a few internal stability problems. (3.0.1)
Changed: no longer display the WusikSND picture file, but the waveform instead. (3.0.1)
Wusik EVE v3 is available to purchase for Windows and Mac (VST/AU) in the "Mid-2010 Group Buy" (including Wusik Station, Wusik Fuse Box, and more) for $59.95 USD. An upgrade is available to previous Wusik customers for $39.95 USD.
More information: Wusik