iLounge has an interesting article on Belkin's TuneStudio, a four-channel audio mixer that allows users to create digital recordings directly to a fifth-generation iPod.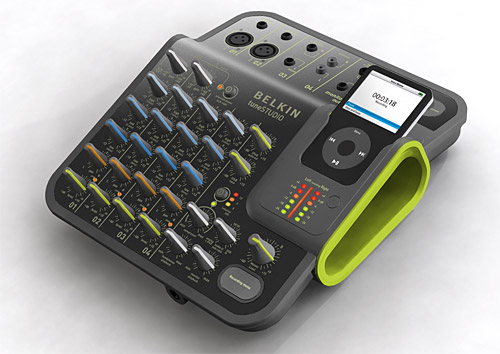 The mixer accepts up to four different instruments or audio sources, and records the audio to the iPod in 16-bit, 44kHz stereo quality for instant playback; each source has a 3-band equalizer, pan and level controls, and the system offers microphone gain and makeup gain features attenuated to the iPod's recording needs. According to the company, it can also serve as an external USB sound card for PCs or Macs, allowing PC source audio input and output to a PC from any of its inputs, as well as streaming audio over a USB connection.
Unfortunately it records everything is one stereo mix, but it looks quite classy anwyay.
TuneStudio is supposed to come out this summer (2007) and it will cost $180. Check Google for more information on TuneStudio.