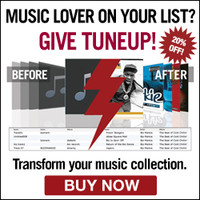 TuneUp Media has announced a limited time discount on its TuneUp software for Windows and Mac.
TuneUp Transforms Your Music Collection. Automagically.™

TuneUp plugs into iTunes and Windows Media Player, providing you with easy, 1-click access to all the tools you need to get the most out of your music.
The interface is simple and intuitive. No instruction manuals needed!
TuneUp is able to intelligently fix your music library using cutting-edge acoustic fingerprinting technology, which evaluates the song's digital DNA and references it against Gracenote's MusicID™, the world's largest database of music metadata.
All TuneUp products are 20% off the retail price until December 31st, 2011.
More information: TuneUp