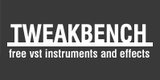 Tweakbench has released updated versions of all its VST plug-ins.
From the website:
Patience is a virtue, so here's a little reward. all the plugins have a point release, updating many little things, and keeping things up to date. all of the cycler series, and everything using any granular processes should perform a bit better now, and i'm just a few days away from the newest addition to the family ;)
Changes in these updates
All of the cycler series (breakdown, dropout, mashup, sideslip) should all get some bug fixes in regards to timing, and some CC issues.
Anything with granular processes (pudding, minerva) should see some increased performance as well.
Everything else has just been updated to use the latest external modules, and latest SynthEdit bug fixes to increase compatibility.
Tweakbench plug-ins for Windows PC are free (donations appreciated) and you can download a bundle of all the plug-ins for a donation of $5 USD.
Visit Tweakbench for more information.