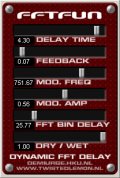 Twisted Lemon has released FFTfun Dynamic Delay v1.2, a freeware VST effect plug-in.
Features
The delay is 32 bits interpolated per FFT (of 1024 samples) to give a smooth sound
Maximum delay time of 4.64 seconds
Feedback (mix the output back into the input)
Modulate the delay-time with frequency and amplitude settings
FFT bin delay: The modulation which you set with knob 3 and 4 can be delayed per bin for every FFT. Starting with bin 0. With a maximum delay of 512 bins
Dry/wet mix
Check Twisted Lemon for more information and a link to download FFTfun Dynamic Delay.