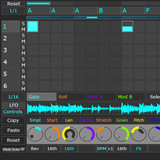 Twisted Tools has launched its new website with 6 free Reaktor ensembles in addition to its first commercial product, Vortex.
We have been working hard for about a half-year now, developing Vortex and creating an infrastructure to bring you the most twisted yet affordable high quality sounding mangling products to rock your speakers. Vortex will be the first of many exciting products we hope to bring you this year…
Vortex is a six track polyphonic sampler and sequencer for Native Instrument's Reaktor 5. It comes pre-configured for Kore 2 and Maschine and features an original 200mb+ sample map with samples by artists such as c2, Richard Devine, Josh Hinden, Noklip, GlitchMachines.com, Mike Huckaby, Sonictwist, Tipper and Vinja.
Vortex features
Six Track Sequencer, 4 Sequencers Per Track
Six-Voice Polyphonic Granular Sampler
Color-Coded Modulation System
Two Cross Modulating LFOs
Extensive Randomization Features
MIDI Learn System with Controller Feedback
Alternate View Option
Multi-Out Support
Extensive Cut/Copy/Paste/Select/Randomize Functionality
Advanced 'Graphic Layer' Editing
Scene Sequencing (create arrangements within each preset)
Templates for Kore 2 and Maschine
Comes with all of the Twisted Tools 'freebie' plugins as part of the download
Vortex is available to purchase for $29 USD.
The following Reaktor ensembles are available to download at no cost for registered users (registration is free):
Chance, probabilistic MIDI sequencer based on a "Weighted Choice" method with dynamic pitch scaling.
Colorstrip, granular sampler designed to suit your sound design needs and excels at complex operations in loop slicing/destruction, but can also perform more simpler tasks.
Debris, a unique granular sampler with advanced mouse-recording features.
Allgorhythm, a probabilistic step-sequencer with a simple interface, that produces complex loops that never repeat.
Cirklz, an advanced granular delay with a unique, one of a kind user interface based on a convenient Reaktor bug.
More information: Twisted Tools