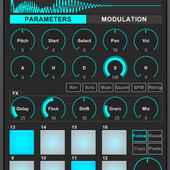 Twisted Tools has released version 1.1 of the MP16 sampler, the Reaktor ensemble part of the Analogue Microcosm sound library.
Last week we released RICHARD DEVINE'S ANALOGUE MICROCOSM, which came with a new Twisted Tools sampler, MP16. This week, we've given MP16 a facelift, along with some great new features free to owners of ANALOGUE MICROCOSM.
Changes in M16 sampler v1.1
Enhanced GUI and internal help system.
BPM sync.
Start quantize.
Default preset layouts for MP16 and Analogue Microcosm.
Improved sample loading and display.
Updated Maschine and Kore templates.
Templates for iPad and Lemur coming soon.
Analogue Microcosm is now available to purchase for $39 USD.
More information: Twisted Tools / Analogue Microcosm