Just in time for the weekend, u-he has released a public beta of Repro-5, a virtual synthesizer instrument that brings the sounds of the Prophet 5 to your computer.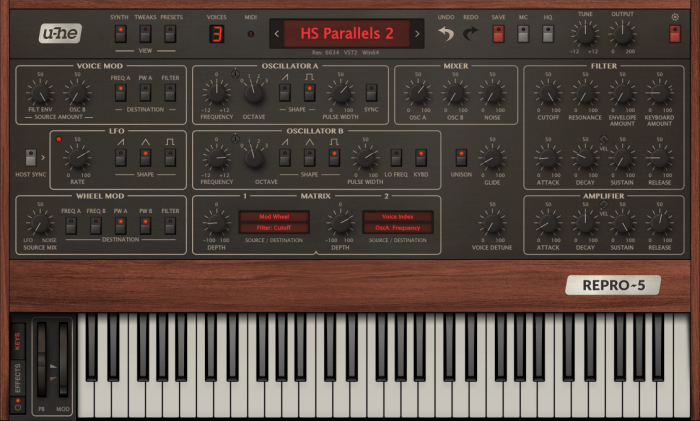 We are pleased to start the public beta for Repro-5. Repro-5 shares a lot of sonic DNA with Repro-1, but draws inspiration from an even more iconic vintage synthesizer.

You will find the familiar rough and raw sounds of Repro-1, but with a few differences, new flavours and characteristics. Most notably, of course, is polyphony.
Besides the introduction of Repro-5, the public beta also includes various improvements and fixes for the Repro-1 synth.
Changes since Repro-1 revision 5332
Improvements:

All new preset browser.
Added Repro-5 polyphonic synth with vintage sound.
Added Microtuning to Tweaks page.
Added velocity scaling for envelopes.
Added filter envelope inversion jumper.
New filter chip 'Poly' available in Repro-1 (from Repro-5).
More parameters now available for automation by host.
Plugin format & OS info shown next to revision number.
'On open expand to' has new 'none' option.
Windows installer now certified.
Init preset can be loaded from main display.

Fixed:

MacOS High Sierra – folders and presets unsorted if using APFS.
Mac only – selecting presets could crash Cubase under special circumstances.
Win only – VST3 wasn't remembering preset name in main display.
Notes mysteriously disappearing in some hosts.
Sustain Pedal – pitch was jumping to highest note after release.
Clock source in Key mode – sequence was resetting to first step with each note.
Improved playability of sequencer in Key mode.
VST3 was not updating some graphics while recording sequences.
Using clear while recording a sequence was not restarting from step one.
With slow clock rate, last played step would not stop immediately when releasing the key.
Sequence A/B now switches only after current sequence has finished.
Arp/Seq rate wrong when using different sample rates for project and rendering.
Notes were played legato even if they did not overlap.
Various small fixes and improvements.

Known Issues:

Win only – Gamma setting only changing after reopening GUI.
Repro-5 NKS preset maps the wrong parameters (saving new fixes it).
Switching HQ creates a temporary DC offset.
Repro-5 and Repro-1 will be combined into a single product at the end of the beta period. Until December 31st, 2017, you can buy Repro (Repro-1 + Repro-5) for $99 USD. The regular price will be $149 USD ex. taxes. For owners of Repro-1, the Repro-5 is a free update.
The Repro v1.1 beta, which includes Repro-5, is available for download for Windows and macOS (VST/AU/AAX/NKS) from the u-he forum at KVR.
More information: u-he / Repro v1.1 public beta