u-he has announced the release of updates for Zebra2 (2.7.2), Diva (1.4), Bazille (1.1), Hive (1.1), ACE (1.4), Uhbik (1.3.1), Filterscape (1.4.1), MFM2 (2.2.1), Podolski (1.2.1), and TripleCheese (1.2.1).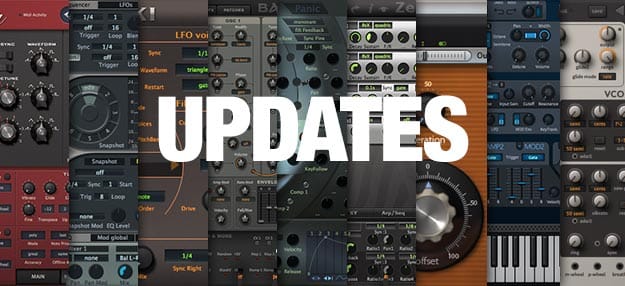 Today we are rolling out updates for almost all of our plugins … even the free ones like Podolski.

These updates are the result of a summer long effort of collecting, prioritising, filtering, implementing and refining a slew of outstanding bugs and feature requests. The end result is a long list of improvements and bug fixes.
Changes in u-he plug-ins
UI improvements:

All plugin UIs now have 10% scaling, from 70% to 200%.
The ACE UI is now clearer and has new modulation sources.
Diva UI was also improved for increased clarity.
The Zebra2 "Unempty Dark Horse" skin is now complete.
And finally, a number of small graphics issues in various plugins are fixed.

Configuration Menu: Bazille, Zebra2, Hive, Diva, ACE and Podolski now have a configuration menu (look for the cogwheel icon). This menu houses:

MIDI learn: a visual overlay for assigning MIDI controls to the plugin interface.
MIDI list table: editable list of assigned MIDI controls.
Preferences: global settings for controls, appearance and audio.

Host/DAW issues:

The "Missing UI" in Logic and Studio One is fixed.
A number of small issues were fixed in Logic X, Studio One, Cubase, Reaper, Digital Performer, ProTools, Maschine and Kore.

Everything else: These updates include a heap of general improvements: fixed hanging and dropped notes, improved MIDI timing, new FX parameters and much more.
The updates are available for download for Windows and Mac OS X. All updates are free for current owners of the products and can be installed over the existing versions. The Dark Zebra contains an updated ZebraHZ 2.7.2 as well and is available from your support account (please create one if necessary).
Satin, Presswerk and TyrellN6 updates will follow later. Also, the Linux versions will be updated with the latest improvements.
More information: u-he