u-he has released a public beta version of Zebra 2.8, the upcoming update of the wireless modular synthesizer instrument.
The update includes a new preset browser, new wavefolder module, NuRev reverb, and lots more. Two new skins are also included: DotEight and DarkEight.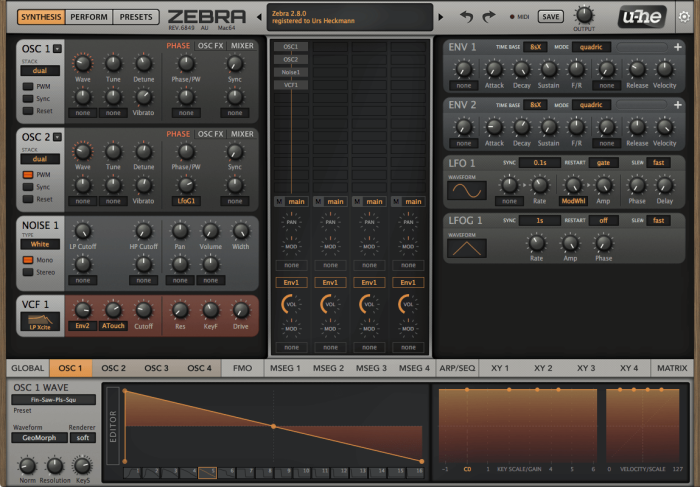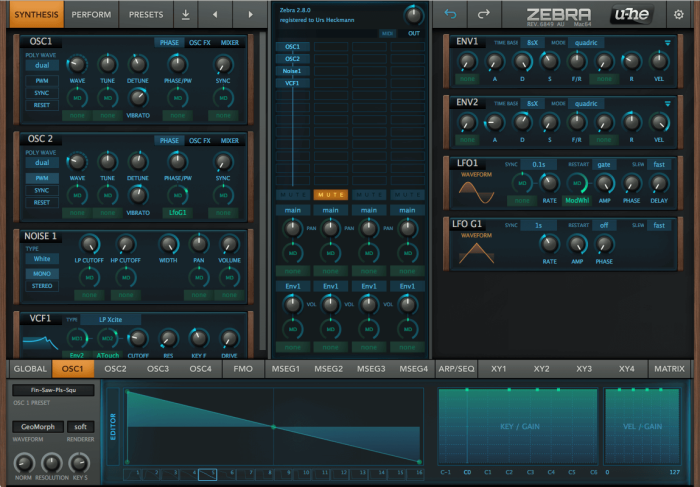 Note: This is beta material. Use at your own risk! Read the info below! Please don't use the Randomizer scripts just yet (see below).

We have one day left to react on issues, but half of our team has left already. Please be lenient with us. Don't install if you're in the middle of something.
Changes in Zebra 2.8 beta (revision 6849)
Improvements:

New Preset-Browser (minus tagging).
New DotEight and DarkEight skins.
New Wavefolder module.
New NuRev reverb module.
Fullsize editor for OSC, MSEG and MMAP modules.
FMO module has waveform previews in new skins.
Modulation table for MSEG and MMAP modules.
More parameters exposed to host automation.
XY controls now have fine control via Shift-click.
New VST3 implementation.
GUI performance improvements on Windows.
Pitchbend range now +/-48.
Plugin format & OS info next to revision number.
"On open expand to" has new "none" option.
Windows installer now certified.
Init preset can be loaded from main display.

Fixed:

MacOS High Sierra – folders and presets unsorted if using APFS.
Mac only – possible crash in Cubase when selecting presets.
Win only – VST3 wasn't remembering preset name in main display.
Playing very high notes could lead to a crash.
Formant filter caused volume spikes when used at 96kHz sample rate.
Zebrify MSEG was retriggering in single trigger mode.
Various small fixes and improvements.

Known Issues:

Fullsize editors slower when using larger GUI sizes.
VST3 – some parameters not reacting to MIDI CC control yet.
MMAP spectralize not automatically updating number of steps.
Init preset needs refinement.
Crash when trying to load script presets (e.g. Randomizer).
Some small issues in preset browser.
In a few hosts, a "send all keys to plugin" option needs to be used.
Win only – Sonar hangs when using Tab key in text search field.
Win only – issue with mouse and text search field in ProTools.
Win only – short flickering while entering strings in text search field.
Win only – Original and UDH skin, text search field yellow when active.
The public beta is available for Windows and Mac (VST/VST3/AU/AAX) from the u-he forum. A Linux version will follow later.